Motorola Steps Up Its Game With The Moto X (2014)
---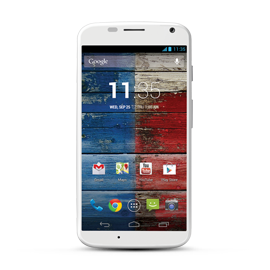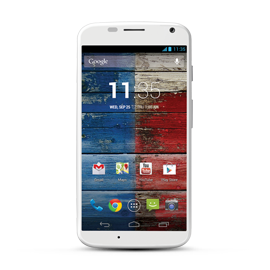 Originally released last year, the first-edition Moto X received mostly positive comments from critics and users. It wasn't the fastest smartphone on the market, nor did it offer a plus-sized display, but Motorola focused on creating a smooth and intuitive user interface. This gamble apparently paid off, as the Moto X was a top-selling smartphone in 2013. Well, it's safe to say that Motorola stepped up its game by releasing the second-edition Moto X earlier this year.
The 2014 Moto X remains true to the original theme and design of the first-edition Moto X but also introduces several new elements.  First off, Motorola allows users to customize the design of their Moto X smartphone using the Moto Maker tool online. Using this tool, you can personalize your device's color scheme, material, and even include laser-etched engravings of your choosing. Want a Moto X smartphone made of wood instead of the default synthetic plastic? Now can your purchase one thanks to the web-based Moto Maker tool.
In terms of hardware, Motorola revamped the Moto X to include a bigger display screen and faster processor. The new 2014 edition features a bold 5.2-inch 1080p Super AMOLED display. It's a beautifully colored display that offers a pleasing viewing experience. Whether you are watching a movie, YouTube videos, or just browsing photos, you're sure to appreciate the high-quality display offered by the 2014 edition Moto X.
Motorola introduced several functions in the Moto X, such as auto time display. Whenever you take the Moto X out of your pocket, it will automatically display the time. You don't have to press any buttons or even tap the screen, as it automatically senses the environmental change and displays the time accordingly. Users can also silence their Moto X device by waving in front of it. And you can take a photo by shaking the phone. These are just a few of the many new features included in the 2014 Moto X.
The new Moto X is also faster and more powerful, boasting a Qualcomm Snapdragon 2.5GHz 801, Adreno 330 GPU, along with 2GB RAM. Motorola included a 13-megapixel primary camera in the 2014 Moto X, which isn't on the same level as the Galaxy S5's 16-megapixel camera, but it's still able to take brilliant photos nonetheless. The Moto X runs the stock version of Android 4.4., and it includes several Motorola apps.
Are you a fan of the Moto X (2014)? Let us know in the comments section below!
---