Top 5 Samsung Dual SIM Android Phones with price
---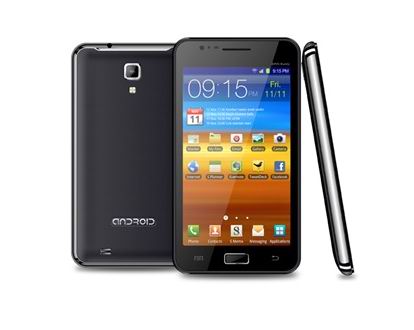 Samsung is excellent when it comes to knowing what the buyers want. This is why samsung offers dual sim android phones under every range.
So, Are you having trouble in handling two or more phones. If yes, then it's time to switch to dual sim phones by samsung.
This list contains Samsung dual SIM phones with excellent features which are highly demanded in the market. Samsung is a South Korea based electronics maker and these days Samsung has a good position in the market only because of its unique phones.The list has top 5 latest and updated Android based phones with price.
1: Samsung Galaxy S Duos S7562 – Price in India Rs: 11999
Key Features & Specifications – Samsung Galaxy S Duos S7562
• Network – 2G, 3G, Wi-Fi
• Dimensions (H X W X D) –121.5x 63.1x 10.5 mm
• Display – 4 inch TFT Capacitive Touchscreen,16 Million Colors
• Resolution – 800 X 480 Pixels
• Processor – 1 GHz Cortex-A5
• RAM – 768MB
• Operating System– 4.0 Ice Cream Sandwich
• Internal Storage – 4GB
• External Storage- 32GB
• Primary Camera –5 Megapixel, Auto Focus, LED Flash
• Secondary Camera – VGA
• SIM Support– Yes, Dual SIM (Dual Standby)
• Weight – 120g , 4.23 Ounce
• Ports – USB 2.0 and 3.5 mm audio jack
• Sensors – Accelerometer, Compass, Proximity Sensor
• Battery – 1500 mAh Lithium Ion
2: Samsung Galaxy Fame S6810 – Price in India Rs: 8799
Key Features & Specifications – Samsung Galaxy Fame S6810
• Network – 2G, 3G, Wi-Fi
• Dimensions (H X W X D) – 113.2 x 61.6 x 11.6 mm
• Display – 3.5 inch TFT Capacitive Touchscreen
• Resolution – 480 x 320 Pixels
• Processor – 1 GHz
• RAM – 512 MB
• Operating System– 4.1 Jelly Bean
• Internal Storage – 4 GB
• External Storage- 64 GB
• Primary Camera – 5 Megapixel, Auto Focus, LED Flash
• Secondary Camera – VGA
• SIM Support– Yes, Dual SIM
• Weight – 120.6 g , 4.23 Ounce
• Ports – USB 2.0 and 3.5 mm audio jack
• Sensors – Accelerometer, Compass, Proximity Sensor
• Battery – 1300 mAh Lithium Ion
3: Samsung Galaxy Y Plus S5303 – Price in India Rs: 6500
Key Features & Specifications – Samsung Galaxy Rex 90 S5292
• Network – 2G, 3G, Wi-Fi
• Dimensions (H X W X D) – 104.9 x 57.9 x 13 mm
• Display – 2.8 inch TFT Capacitive Touchscreen
• Resolution – 320 x 240 Pixels
• Operating System– 4.0 Ice Cream Sandwich
• Internal Storage – 4 GB
• External Storage- 32 GB
• Primary Camera –2 Megapixel
• Secondary Camera – No
• SIM Support– Yes, Dual SIM (Dual Standby)
• Weight – 96 g , 3.39 Ounce
• Ports – USB 2.0 and 3.5 mm audio jack
• Sensors – Accelerometer, Compass Sensor
• Battery – 1200 mAh Lithium Ion
4: Samsung Galaxy Ace Duos S6802 – Price in India Rs: 8000
Key Features & Specifications – Samsung Galaxy Ace Duos S6802
• Network – 2G, 3G, Wi-Fi
• Dimensions (H X W X D) – 112.7 x 61.5 x 11.5 mm
• Display – 3.5 inch TFT Capacitive Touchscreen
• Resolution – 480 X 320 Pixels
• Processor – 832 MHz
• RAM – 512 MB
• Operating System– 2.3 Gingerbread
• Internal Storage – 3 GB
• External Storage- 32 GB
• Primary Camera –5 Megapixel, Auto Focus, LED Flash
• Secondary Camera – No
• SIM Support– Yes, Dual SIM (Dual Standby)
• Weight – 122 g , 4.30 Ounce
• Ports – USB 2.0 and 3.5 mm audio jack
• Sensors – Accelerometer, Compass, Proximity Sensor
• Battery – 1300 mAh Lithium Ion
5: Samsung Galaxy Core i8260 Price in India Rs: 15000
Key Features & Specifications – Samsung Galaxy Core i8260
• Network – 2G, 3G, Wi-Fi
• Dimensions (H X W X D) – 129.3 x 67.6 x 9.0 mm
• Display – 4.3 inch TFT Capacitive Touchscreen,16 Million Colors
• Resolution – 800 X 480 Pixels
• Processor – 1.2GHz Dual-Core
• RAM – 1GB
• Operating System– 4.1 Jelly Bean
• Internal Storage – 8GB
• External Storage- 64 GB
• Primary Camera –5 Megapixel, Auto Focus, LED Flash
• Secondary Camera – VGA
• SIM Support– Yes, Dual SIM (Dual Standby)
• Weight – 124 g , 4.37 Ounce
• Ports – USB 2.0 and 3.5 mm audio jack
• Sensors – Accelerometer, Compass, Proximity Sensor
• Battery – 1800 mAh Lithium Ion
---