Samsung Galaxy Note 3 coming to India on 25th September
---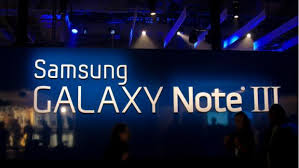 The much awaited Samsung galaxy note 3 will be available for purchase in India from 25th September. The launching event will take place on 17 September where Samsung will announce the arrival of Samsung galaxy gear and galaxy note 3 in India.
The release date of note 3 has already been declared in the US, and after India, the rest of the world will be eying on the Samsung. The rumors about galaxy note 3 crossed the limits when every different website was speculating the different release date. Everyone is waiting for the launch of note 3 for past 6 months. With Apple launching iPhone 5S and iPhone 5C, Samsung has increased the pace.
Note 3 will come up with 5.7 inch screen with AMOLED touchscreen. It is expected to give serious competition to iPhone 5s and LG G2.
Samsung is also expecting to launch Note 10.1 before Diwali. You can hope to see a note 3 in your hand before the next month if everything works as planned by Samsung.
Samsung has huge expectations from note 3 as companies like Micromax, HTC and now carbon are aggressively targeting the market of android phones. From the user's point of view, after the great success of note 2, they are hoping to see the completely changed and improved version of the previous note series phones.
---