Videocon Launches Six Dual SIM Android phones under its Infinium Series
---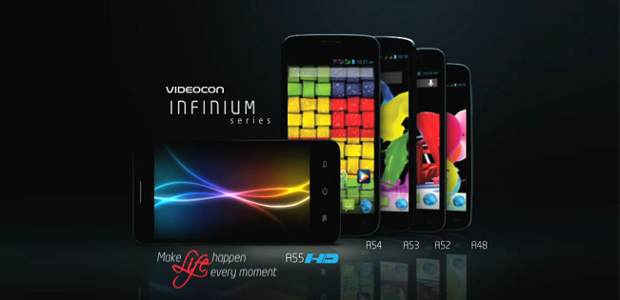 Videocon has launched six android phones at the same time in its Infinium-series. Videocon Mobiles announced six android phones A31, A54, A52, A55qHD, A53 and A48. All the phones are relatively similar in design with some variation in the specifications. So at this moment Videocon has eight Smartphones under the Infinium series. The best thing about these 3G enabled android phones is their processing speed and camera quality and optimal screen size. All the phones are dual SIM devices with all the basic functionalities.
Khalid Zamir, head product planning, Videocon stated on the event that we are proud of our 'Infinium' series, and we will keep on launching Smartphones under Infinium series, and no doubt it is one of the best products by Videocon in recent times.
The price will start from Rs. 6000, but there is no official confirmation on the range of price.
So if you are willing to buy these new flagship devices, you have plenty of options.
Check out the Specifications of Infinium
All the Smartphones listed below have 1.3 MP front Camera and Dual SIM facilities.
Specifications of A31: A31 comes with 1.2 GHz processor (dual-core), 5 Megapixel primary camera, 4-inch display and is powered by a  1550 mAh battery.
Specifications of A52: A52 has1GHz dual-core processor, 5-inch screen size, 5MP rear camera and a powerful 2000 mAh battery
Specifications of A48: A48 is a 4.5 inch android phone with 5 MP primary camera and 1650 mAh Li-on battery.
Specifications of A55qHD: A55qHD has a very fast processing system thanks to 1.3GHz quad core processor. It has a massive 5-inch screen size and a high resolution 8 Mega Pixel Camera with LED and Flash. It can shoot excellent pictures in the day time as well as in nights.This one is the best among all the other Infinium-series Smartphones.
Specifications of A54: It has a 5.3 inch display, 1.2GHz quad core processor, 8MP primary camera, and an ultimate 2500 mAh battery with powerful backup and Talktime.
Specifications of A53: Similar Specifications as A54. The only difference is that it has a 1800mAh battery instead of 2500mAh.
Related Story – Videocon a24, Top HTC Mobile Phones
---