Top 5 HTC Mobile Phones with Price in India 2013
---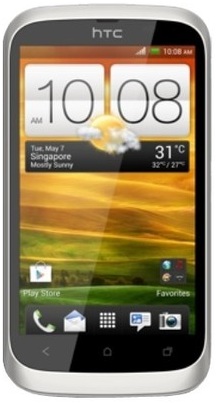 Give a look at the top 5 HTC mobile phones in India. All the mobile phones fall in the range of below 20000 rupees. Check out the price, specification and images of HTC phones.
HTC One V T320
HTC One V is a value for money Smartphone which comes with, android 4.0 ICS and 5MP of rear camera. It is powered by the powerful 1 GHz processor. The 512 MB RAM and 3.7 inch screen disappoint a bit, but HTC is not known for creating large screen size phones. It packs a 4GB internal storage which can be further expanded up to 32GB.
Price in India – Rs. 13990
Related Story – HTC desire 500 Reviews
HTC Desire X

HTC Desire X is a Dual SIM Android phone (both GSM) with Qualcomm Processor (Dual Core). It has a 4 inch capacitive touch screen with 5MP primary camera. The best thing about this phone is its clean design and look. If you want to buy this, try white color. It looks better in white color. It comes with the jelly bean OS and 1650 mAh battery.
Price in India – Rs. 14168
HTC 8S A620E
HTC 8S is a sleek window device from HTC which comes with Windows 8 OS. It is single SIM phone with the Qualcomm Snapdragon processor. HTC 8S comes up with 4GB Internal storage and 5 MP rear camera. The phone is not so much popular because of its price range, and there are plenty of options available in this range.
Price in India – Rs. 13049
HTC DESIRE U

The HTC Desire U has almost similar specifications like Desire X. It supports dual SIM with only GSM network supportability.  It has 512 MB RAM, 4GB Internal Memory and 1GH Processor. It packs with a 5MP rear camera along with LED and autofocus.
Price in India – Rs. 12499
Tag- HTC desire 600c
HTC Desire SV
HTC Desire SV is an excellent phone with an 8MP camera. Camera quality stands out, and it snaps high quality images in daylight. It is powered by Cortex processor and android ICS. It supports dual (both GSM) and 4GB Internal Memory.
Price in India – Rs. 17500
Tag – All HTC Phones
---