Is It a Smartphone or a Smartwatch? It's Both!
---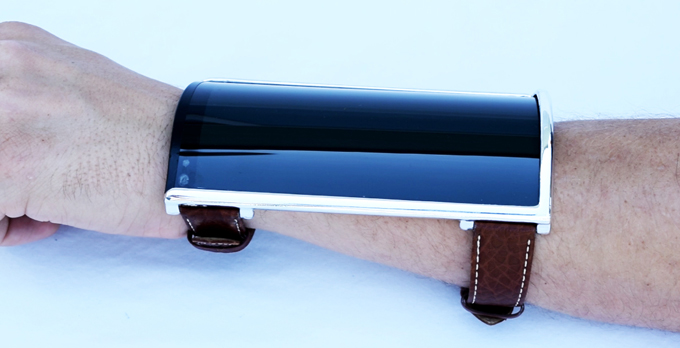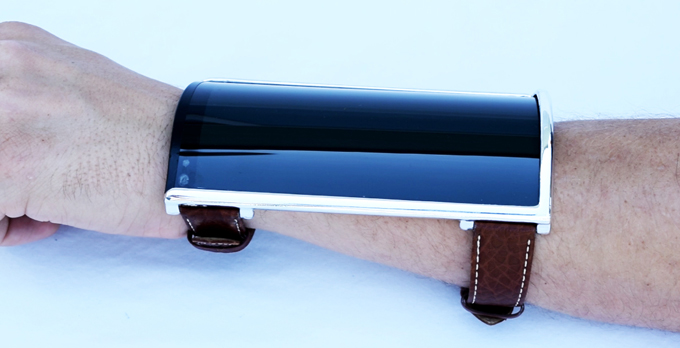 Who says you have to choose between a smartphone and a smartwatch? The new Android-powered Portal device offers the best of both worlds, featuring a flexible 6″ display that can be bent to fit your wrist (see image above).
Developed by Arubixs, the Portal features 2GB RAM, 64GB storage, a multi-core processor, 2 forward-facing cameras, 2 outer-facing cameras, 3200 mhA rechargeable battery, Android-based operating system with Portal OS Customizable UI, eand most importantly a flexible 6″ shatter-proof, waterproof OLED display screen. The Portal is still in development, however, with an Indigogo page set up to generate a goal of $300,000 (it's raised just over $39,000 as of writing this).
Another key selling point of the Portal is its wide variety of colors. The company's Indigogo page lists several different color options, including Forest Green, City Aqua, Sky Blue, Deep Purple, Island Orange and Beach Orange.
With a growing focus on electronic wearables, it's certainly a bold idea to create a flexible smartphone that can be used a smartwatch. The images published by the company also depict a surprisingly bold and brilliantly colored display, which is somewhat of a given considering it features an OLED display. Whether or not consumers will actually use, let alone wear, the Portal remains to be seen, however.
Even with all of the new smartwatches and smartglasses being released, analysts are skeptical regarding the future of such electronic wearables. If consumers aren't willing to use them, startip companies like Arubixs and its Portal device could be left dead in the water — long before they are given a chance to succeed.
"The Portal is a smartphone designed for tech enthusiasts, active individuals, and on-the-go professionals who are frustrated with bulky, cluttered, non-durable phones that constantly get in the way of their dynamic lifestyles. Our goal was to create a device that combines advanced smartphone technology with the convenience and mobility of smart watches and fitness trackers- a handheld phone when you need it, a wearable device when you want it. No longer will you need to carry and connect a smartwatch, fitness tracker and smartphone all at once.  Portal offers you the best of those devices at the times you choose."
Although the Portal is still in the early stages of production, donating $349 will score you one of these unique Android-powered devices when it's released next year.
Would you buy the Portal smartphone-smartwatch device? Let us know in the comments section below!
---