Microsoft unveils Surface 2 and Surface Pro 2 tablets
---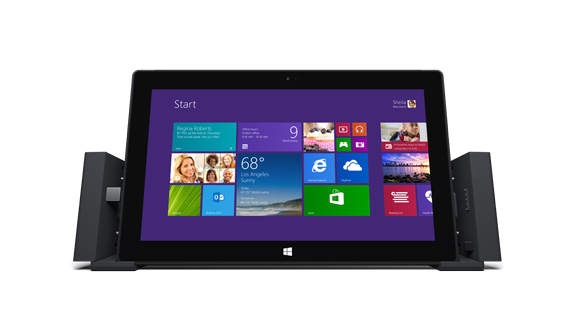 Microsoft's Surface, which resembles like a tablet cum laptop.
 It has already created a buzz among the techies by its typing friendly nature.
 Microsoft revealed touchscreen Surface tablets, Surface 2 together with Surface Pro 2 at an event in New York. Both tablet comes with a touch screen keyboard and operates considerably well after attaching it to the cover (which is optional).
 Both the tablets come in four shades black, purple, pink and blue. It makes you feel that you are typing on a laptop.
 The typing experience makes sure that you feel Surface 2 more like a laptop than an iPad or tablet. Microsoft has accomplished what they  wanted as they keep calling it as a tablet. The Surface 2 model has a pre-installed Microsoft office and of course the Outlook etc.
 The Surface 2 is priced at $499 and operates on Windows RT, and it runs only with applications created particularly for it.
 On the other hand, Surface Pro 2 will cost you around $899 with a full version of the window, and it works for all the programs. It is a 2nd generation window 8 tablet with i5 processor .Both the tablets have 200 GB of online storage via SkyDrive for two years.
 The purpose behind launching surface is to make sure that you do not need to change your system while you are at work or at the field. Microsoft is hoping that it will make users think that one device can fulfill all their requirements. It will be great if it does happen as most people uses different devices at home and office.
 On initial glance, both the tablets look well, and it has improved drastically in comparison with the previous version  as now the latest specification of Surface 2 are 2GB RAM, Dolby Digital Sound and 1080p x 768 pixel color density.
 Even though it has everything you wished for, but the keyboard could have been a bit smaller (but it's fine).
 For fun activities, there are tons of apps in Microsoft's app store and it also enables you to play games like angry bird and Xbox.
 Surface 2 and Surface 2 Pro weighs about 1.5 pounds and 2 pounds, respectively. So both the tablet weight is average, neither lightweight nor bulky.
 Microsoft's has stated that both devices are almost unbreakable thanks to the heavy duty glass and magnesium alloy. Microsoft challenges you can't crack the devices with a sledge hammer and even by roll it over with a car.
 On the whole, but the devices have significantly improved in terms of processing speed, picture quality and most importantly battery backup.
---