New Details on The Samsung Galaxy S6 Leaked
---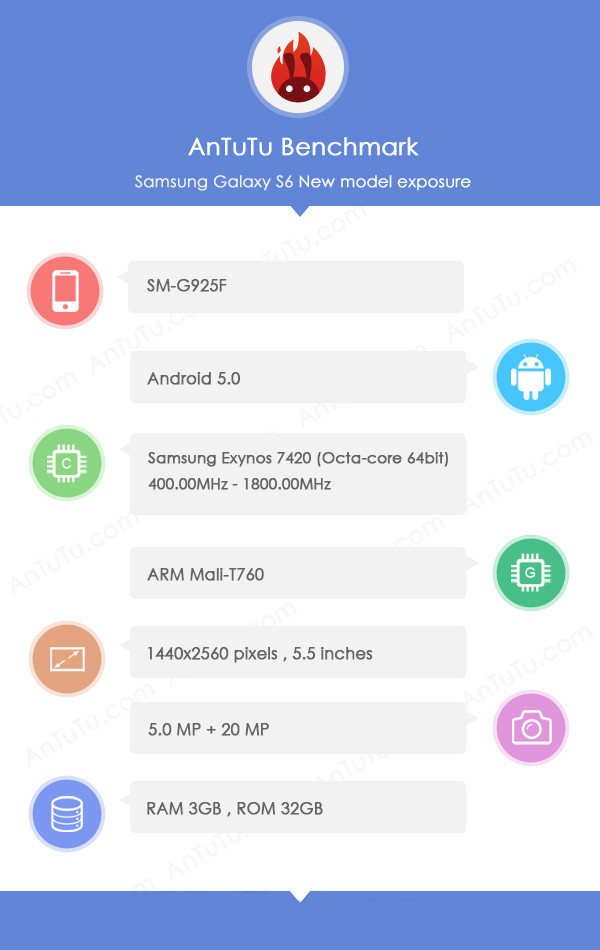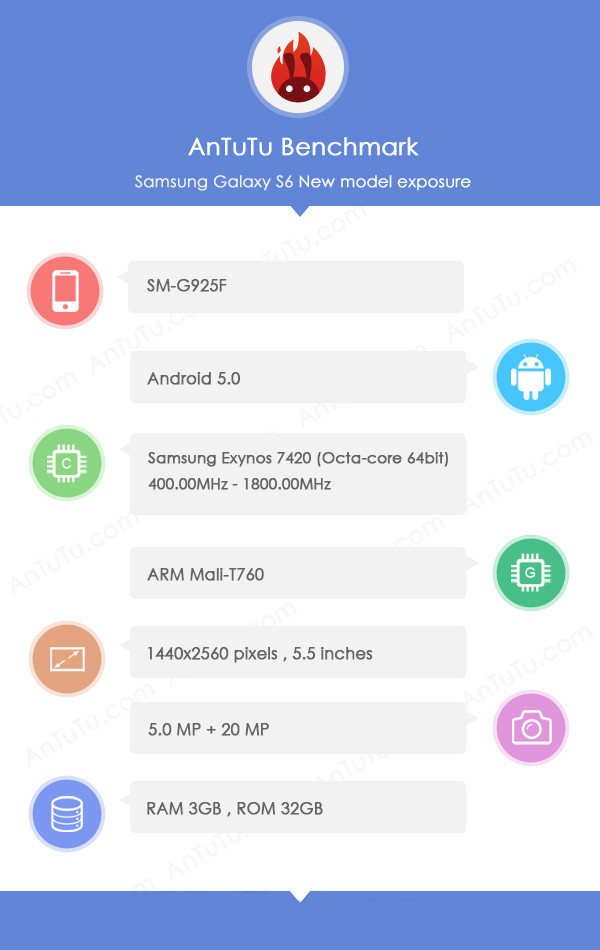 It's been less than a year since Samsung launched the Galaxy S5. During that short period of time, it's quickly grown to become one of the world's top-selling smartphones, and for good reason: it features a quad-core Snapdragon 801 processor, 2GB RAM, a 16-megapixel primary camera, and Samsung's own TouchWiz mod on top of Android 4.4.4 KitKat (soon to be Android 5.0). But new details are starting to emerge on the South Korean tech company's next "Big Thing."
SamMobile first reported the appearance of the Galaxy S6 (model number SM-G925F) on a AnTuTu benchmark application. The benchmark, seen in the image to the right, reveals a Samsung device running the Android 5.0 Lollipop operating system, along with the following specs: an Exynos 7420 octa-core 640bit processor, 5.5-inch display with 14440×2560 pixel resolution, 20-megapixel primary camera, 5-megapixel secondary camera, 3GB RAM, and 32GB storage.
This isn't the only leaked information we have on Samsung's upcoming flagship smartphone. Other reports suggest Samsung will release two different variants of the Galaxy S6, the standard launch edition and the Galaxy S6 Edge. The Galaxy S6 will follow the same path as the Galaxy S5, delivering a solid experience with top-of-the-line hardware. The Galaxy S5 Edge will also feature high-end hardware, but it will be tailored after the company's Edge line of phablets. As one website points out, the Galaxy S6 Edge will feature a curved screen that operates "independently of shortcut controls and widgets."
"The news come from the usually reliable Sammobile which states that the Galaxy S6 will be joined by the 'Galaxy S6 Edge', a variant of the crazy but ingenious Note Edge… For those unaware of the Note Edge, it is essentially a Galaxy Note 4 (long term review) where the right side of the display is curved onto the right edge. It operates independently of the main screen providing shortcut controls and widgets for apps.

For example: controls for games or video playback can be kept off the main screen and widgets for things like the weather or new emails can be seen at all times," wrote Fiji Sun Online.
Of course, all of this information is purely speculatory at the moment, as Samsung has neither confirmed nor denied these rumors. Regarding a release date for the Galaxy S6, it could be well into next year before we see it on the shelves.
What kind of features do you hope to see in the Samsung Galaxy S6? Let us know in the comments section below!
---