Nexus 12 Tablet PC Concept Surfaces
---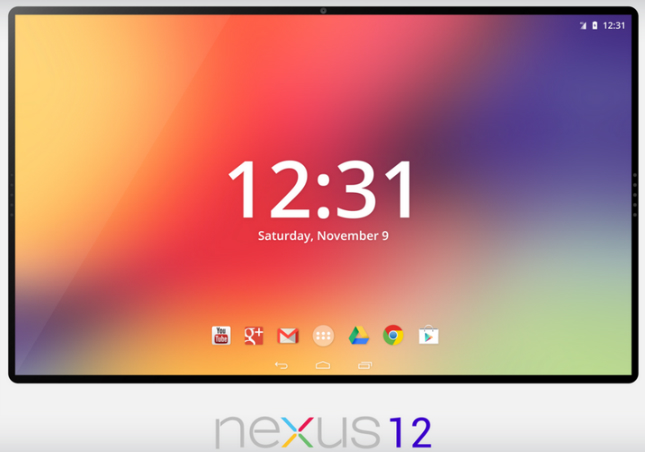 Nexus 12 Image Surfaces After 12″ Samsung Device Hits FCC
While the Nexus 8 rumors made the rounds a while ago in tandem with a Nexus 5 and Nexus 11 concept, today we caught wind of a different rumor.
This time, a fan has decided to design a concept device – featuring the Nexus 12 tablet PC, which was not included in the original Nexus 8 concept rumors that started back in May of this year.
Nexus 12 Tablet Concept?
According to the Android Authority, there is potential for a Nexus 12 tablet to be developed, and a fan took it upon himself to develop a concept image for the device, which has since made – surprisingly – limited rounds through the rumor mill.
Actually, we're interested to find out if fans are just excited at the Nexus 5's release or if there is any basis behind the concept – what sparked this person's interest to create a Nexus 12 concept? Could it be that Samsung beat Google to the punch?
Dream Concept Specs
In any case, here are some of the conceptual specifications that TheTechnoToast, the fan who created the concept on DevianArt, insists should/would be available on a Nexus 12 should one ever be released:
Made by ASUS for Google, of course, just as the other Nexus tablets are
12-inch Gorilla Glass 4 5120 pixel by 3200 pixel capacitive touchscreen with 503 pixels per inch
Qualcomm Snapdragon 1000 quad-core CPU clocked at 2.6GHz
13-megapixel rear-facing camera and 3-megapixel front-facing camera
Android Kit Kat 4.5 multibooting with both Windows RT and Chrome OS
SuperUser and Cyanogenmod pre-root optional
4G LTE ready and 4GB RAM
Obviously, a tablet PC of the 12-inch size as depicted would outdo any other tablet PC on the market or even in development – rumored or otherwise – no matter how great that tablet PC were simply because it is the screen real estate that makes the sale for most buyers.
Here's what the conceptual Nexus 12 looks like in an image rendered by TheTechnoToast:
Changes We'd Make to Nexus 12 Specs
However, while we think this is a decent specifications lineup, we think that a company that develops a 12-inch tablet of any kind would up the specs a bit more. For instance, instead of a quad core Snapdragon CPU, why not an octal core, as the Galaxy S5 and iPhone 6 are rumored to get?
Although we know that Google isn't known for its great cameras, instead of a measly 13-megapixel cameras that most smartphones outdo, why not feature a 20-megapixel camera instead?
What we mean is that for a tablet PC of this size and "greatness" concept or not, we think it should be at least as good, and definitely better than the best smartphone on the market.
We also think that the resolution could be better, with more pixels per inch as well. Since many smartphones are already packing upwards of 500 pixels per inch, it isn't a stretch to think it could be packed even tighter in a 12-inch tablet.
Samsung Files 12-inch Device with FCC
In any case, Samsung was already rumored to be releasing a 12-inch tablet, according to the Android Authority. Said to be a Galaxy Note 12-inch, whatever the device actually is, it did just pass through the FCC on October 31 – confidentiality request and all.
Combining that tidbit with the fact that Google has to date had difficulty outdoing its competitors while keeping its pricing low enough to make its devices sensational, we think it's highly unlikely a 12 inch Google Nexus Tablet will make an appearance any time soon.
Nexus 11 on the other hand is a different story.
Do you think a Nexus 12 with better specs is possible? Why or why not? Let us know below!
---