Samsung Galaxy Stratosphere II Coming to Verizon
---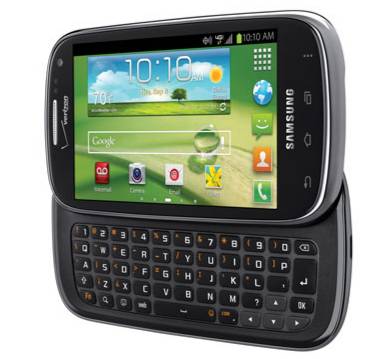 It's official – the Samsung Galaxy Stratosphere II is making its way to Verizon. We learned about the Stratosphere II earlier in the year, though a landing date and carrier was not released at the time. Verizon put speculation to rest this week with the announcement that fans can expect the next heir to the Galaxy line to arrive:
"in the coming weeks for $129.99 after a $50 mail-in rebate with a new two-year customer agreement."
Though the Stratosphere II is what some would call an in-between phone – it sports sepcs indicative of what you'd find on entry level and mid range phones on the market.
Why would anyone want to purchase this "not a Galaxy S line" phone?
While it's not full of the bells and whistles for which higher-end and more expensive Galaxy smartphones are well known, it holds its own in the mid range market. Besides, we've seen worse – much, much worse, and for a much steeper price.
Stratosphere II Specifications
Galaxy Stratosphere II is a full QWERTY phone – something the Galaxy S line doesn't offer – no doubt it'll be appreciated by many who prefer a physical keyboard. Weighing in at only 5.3 ounces, it is 4.97 inches long, 2.58 inches wide, and 0.53 inches thick. Not too big, not too small.
Stratosphere II will sport a 4-inch Super AMOLED full touchscreen, and while the resolution is only 800 pixels by 480 pixels, you need to remember that it wasn't too long ago that this was considered the resolution of choice. Besides, while you won't get clarity and crispness high-end smartphones offer from massively packed together pixels, you will get the same decent picture and video for which Samsung is known.
Stratosphere II will feature a 5-megapixel rear camera and a 1.5-megapixel front-facing camera. Both will sport the usual digital zoom, auto focus, different shooting and editing modes, geo-tagging abilities, and online image uploading, though the rear camera will work as a camcorder featuring DivX and HD recording and playback and online image uploading capabilities.
Android Ice Cream or Android Jelly Bean?
One thing you should keep in mind about the operating system…
Even though Samsung's official specs page notes that the Stratosphere II will get Android Ice Cream, the Verizon press release featured an update noting that the smartphone will indeed be upgraded to feature Android Jelly Bean instead – before it's made available for purchase at Verizon. In any case, the mobile OS will be overlaid with the TouchWiz UI.
We doubt that Stratosphere II will ever see Kit-Kat since it doesn't have the hardware for it, but it could eventually sport Jelly Bean 4.2.3 if down the road.
The Power Behind the Galaxy Stratosphere II
This is where the entry-level specifications come into play. Stratosphere II will only sport 8GB flash storage, 1GB RAM and a 1.2 GHz CPU, though it is a dual core. You can expand storage up to 32 GB with a microSD slot. The phone is powered by a 1,800 mAh battery that lasts up to 9 days on standby at 3G and up to 6 on 4G, while you'll get about up to 17 hours of talk time on 3G and up to 15 hours on 4G.
Of course, when we say 4G we mean that Stratosphere runs on the LTE network, and will also run on the CDMA/EVDO bands since it is coming to Verizon. However, it is also rated for HSPA and GSM as well, which is a T-Mobile/AT&T frequency.
Would you consider purchasing the Galaxy Stratosphere II? Why or why not? Let us know in the comments! 
---