Videocon Launches Infinium Z45 Nova Smartphone
---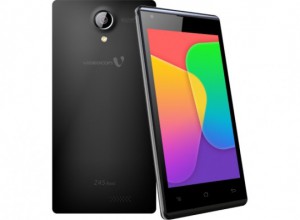 2014 is was the year of the budget-friendly smartphone. We saw well over a dozen Android-powered smartphones released with a price tag of under $100. Further attesting to the trend of budget smartphones is the Videocon Infinium Z45 Nova, which is expected to hit the e-commerce website Flipkart at Rs 4,999.
According to the International Business Times, the Infinium Z45 Nova is equipped with a 1.3 GHz quad-core processor (unknown maker), a dual-core Mali 400 graphics processing unit, 5-megapixel primary camera, 2-megapixel secondary camera, 1GB DDR2 RAM, 8GB of in-built storage, and a 1700 mAh battery. The device also features a MicroSD card slot for further memory expandability up to 32GB.
These aren't ground-breaking specs by any means, but they aren't bad either. And given the fact that the Infinium Z45 Nova is priced at just Rs 4,999, it's an attractive smartphone for people who aren't willing to spend a fortune on a name-brand device from a big-name maker like HTC or Samsung. With that said, there are a few downsides to the Infinium Z45 Nova, including its operating system.
Like many budget-friendly smartphones, the Infinuim Z45 Nova also supports dual SIM cards, meaning you can set it up to use two different phone numbers simultaneously.
Videocon confirmed that the Infinium Z45 Nova will run Android 4.4.2 KitKat, which may deter some consumers from purchasing it. The good news, however, is that a spokesperson for the company said it plans to release Android 5.0 Lollipop once it's ready. There's no date set for the release of Android Lollipop, so don't get your hopes up. But at least Videocon does in fact plan to release it.
"With the launch of Infinium Z45 Nova, we are creating a disruptive edge in the budget smartphone market by bringing in top smartphone features at a highly affordable prices. We understand the emerging consumer need of having flagship grade smartphone experience at a very value-for-money cost, and are affording the same within the sub ₹5000 price bracket to the market," said Videocon Mobile CEO Jerold Pereira.
As a side bonus, anyone who purchases the new Infinium Z45 Nova will also receive a free copy of Videocon's V-Secure cyber security app, as well as a a GPS-based safety V-Safe app.
What do you think of the Videocon Nova? Let us know in the comments section below!
---