Leaked Image Oppo N3 Smartphone Surfaces Online
---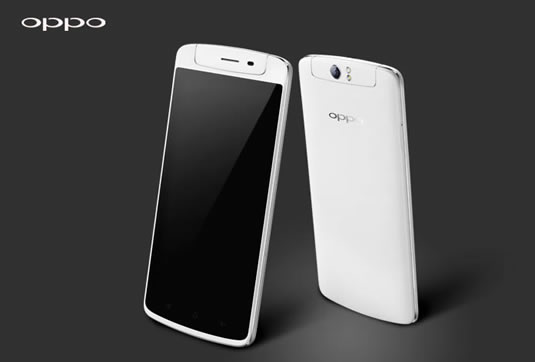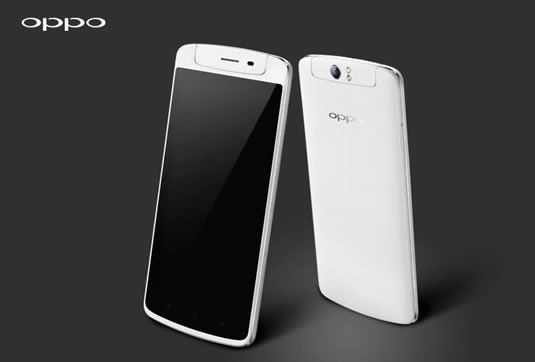 SoyaCincau.com has reportedly published leaked photos of the upcoming Oppo N3 smartphone via an anonymous tipster (note: image above is an earlier version). Oppo has yet to confirm the authenticity of these photos, but several credible sources are saying they are in fact real. Assuming these images are authentic, the Oppo N3 could revolutionize the way in which cameras are utilized on smartphones.
The two leaked photos, both of which are published are SoyaCincau.com and GSMArena.com, reveal a cylindrical camera at the top of the device, which we assume has the ability to rotate. The photos also show two light-emitting diode (LED) lights directly next to the camera lens.  Previous versions of Oppo's N-series smartphones have boasted similar moving cameras but not to this extant. The N1, for instance, allowed for slight adjustments of the camera angle by tilting it either up or down. This new design appears to allow the user to turn the camera completely around, moving it from rear-facing to front-facing.
When the Oppo N1 was in its standard position, the camera was flush with the device's body. This resulted in a clean appearance in which the camera did not protrude or otherwise stick out. According to the leaked photos published by SoyaCincau.com, however, the new Oppo N3 will have a camera attached to a rolling tube-like structure on top of the device. Granted, this may improve the camera's functionality, but its design/aesthetics will likely turn away some potential buyers.
On the plus side, the Oppo N3 will reportedly feature dual LED flashing lights. The N1 featured LED flashing lights, but they weren't aligned horizontally such as depicted in the leaked N3 images. LED flash can make a world of difference in a camera's overall function, which is probably why Oppo included it the N1, N2, and N3.
So, what type of camera will the Oppo N3 use? Again, we still don't know the specs of this device; however, some websites are suggesting the Chinese manufacturer will use a 16-megapixel camera. Being that the camera is able to rotate, it's highly unlikely that Oppo will include a secondary camera. Reports claim the Oppo N3's camera will either be made of aluminum or titanium.
Oppo first announced its upcoming Android-powered N3 smartphone earlier this month, sending out invitations to the N3 Launch, which will be held on October 29. other than this sliver of information, however, we don't know much about Oppo's latest flagship smartphone.
---