Photos of Sony Xperia Cosmos Leaked
---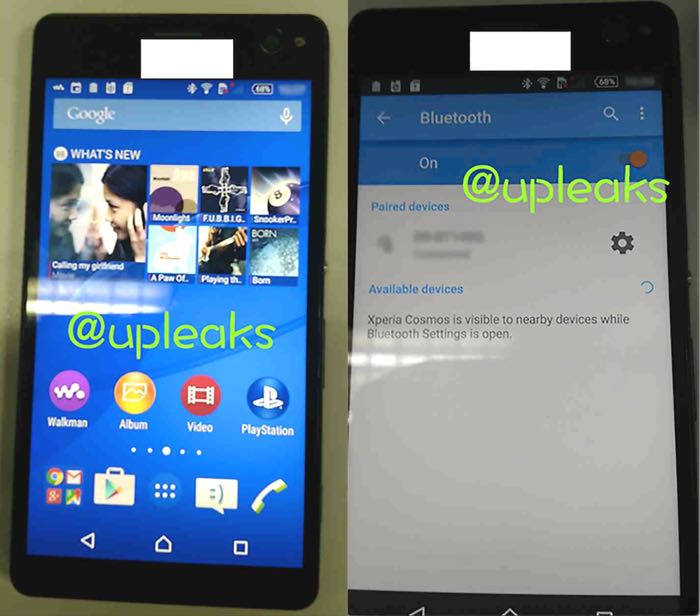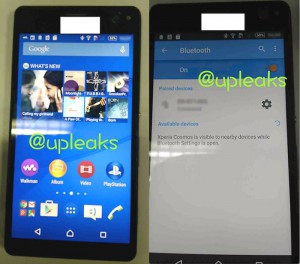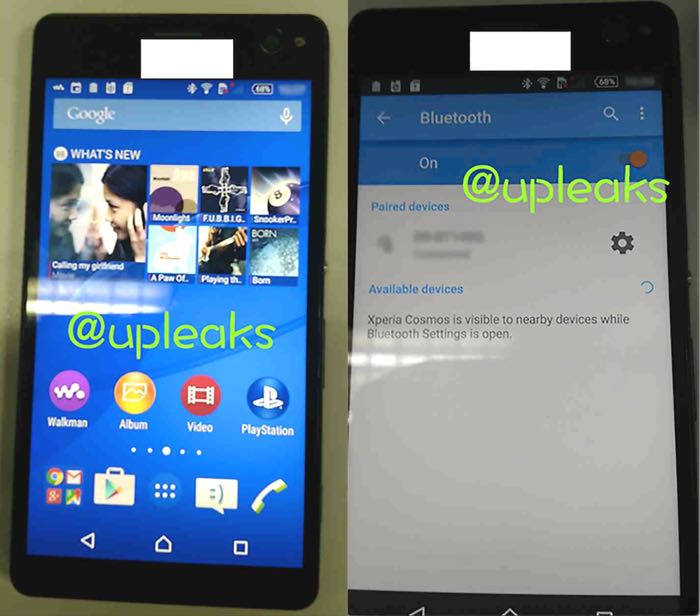 New photos of Sony's Xperia Cosmos smartphone have been leaked online. Twitter user @upleaks published the photos earlier this week (see image to the right), revealing an Android 5.0 Lollipop handset with subtle rounded corners and a physical power button fixed to the side. The leaked photos depict a black-colored the Xperia Cosmos, although it's safe to assume Sony will offer the device in several different color variations.
Unfortunately, we still don't know much about the upcoming Xperia Cosmos. Sony has yet to publicly announce the device, so we're left to speculate based on leaked images and report. With that said, rumors suggest the Xperia Cosmos will be a "selfie" centered smartphone. The front-facing camera will likely feature an LED flash for taking brilliant selfies. However, it's unknown at this time what megapixel Sony plans to use in the Xperia Cosmos.
As noted by AndroidandMe, the Xperia Cosmos has an oversized front-facing camera on the front. Bigger cameras typically translate into better photos, which is why so many people are suggesting it will be tailored for selfies. Many smartphone companies have taken a proactive approach towards integrating high-end cameras into their devices, but few (if any) have focused their attention on front-facing "selfie" cameras. Assuming the rumors are true, Sony will be traveling off the beaten path with its selfie-centered Xperia Cosmos smartphone.
It's estimated that more than one million selfies are taken everyday. 52% of all women have admitted to taking a selfie, while 50% of all men say they've taken a photo of themselves, according to an infographic published by Techinfographics.com. Selfies have become a global trend for our generation, with Oxford Dictionaries naming it the "Word of the Year" for 2013. Perhaps this is why Sony has invested its resources into developing a selfie smartphone.
In terms of specs, we don't know much about the Xperia Cosmos. Twitter leaker @upleaks says the device will feature a MediaTek processor, but the speed and core count is unclear. Other likely specs include 2-3GB RAM, a primary camera (unknown megapixel), and a 5-inch full-HD display.
If you're interested in learning more about the Sony Xperia Cosmos, check back with our blog here at AndroidPhons.com. We'll bring you all of the latest news surrounding Xperia Cosmos and other Android-powered handsets.
What do you think of the Sony Xperia Cosmos? Let us know in the comments section below!
---