Android Kitkat 4.4 – Latest Android Operating System has landed
---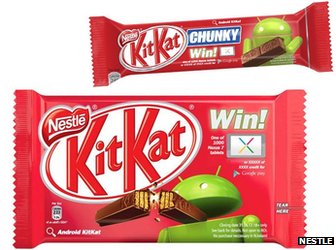 Android Kitkat, yes this is the name Google has given to its latest operating system. When everyone was expecting "Key Lime Pie", this news came as a surprise. Android Kitkat will be 4.4 version of the android operating system. When everyone was busy in writing about Key Lime Pie, Sundar Pichai was busy in meeting with Hershey, the owner of Nestle.
It was expected that the next android operating system after jelly bean 4.3 will be called "android 5.0" but as usual Google has outthought everyone. With Google's love of sweets, this name shouldn't surprise the android lovers.
Everyone in the tech world is surprised, and they have every reason to be as this comes out of the box. The news is all over the web, and a promotion video has also been trending very high on YouTube.
Google and Nestle also announced a competition in which the Kitkat buyers can win Google Nexus 7 and many more exciting prizes. This offer will run till January 31, 2014.
The deal between Nestle and Google reportedly just took 48 hours and Nestle is very happy with the deal as they are calling it, "future of confectionery".
The history of android has been amazing, right from the cupcake to donut then to gingerbread and now Kitkat. We hope that Android Kitkat 4.4 will be the best android version ever.
So the next time you go on to buy Kitkat, don't be surprised by seeing the android and the Google name on the wrapper.
---