Nokia Lumia 925 review – Is this the Best Window Phone?
---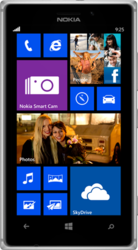 Nokia Lumia 925 is fabulous in design and camera but average in terms of hardware, in fact, quite similar to Nokia Lumia 920 hardware. So let's review Lumia 925 design, hardware, camera and user interface.
 Design and Display
 Nokia Lumia 925 has to be in the top 10 list of Nokia's best looking Smartphones. Aluminum frame has added the feather to its cap. It is sleek and light in comparison to lumia 920. It comes in three different colours Gray, Black and White and the white one looks the best. Nokia Lumia 925 looks ordinary from back, and it back design could have been better.
It has a 4.5- inch screen with AMOLED ClearBlack and HD display. It has a good pixel density which makes the display astonishing. But if you compare it with the htc one and galaxy note 3, it disappoints. You can set saturation and temperature according to your preferences. It works well under the sun, and the display does not affect much which is a good sign. On an average, it has a nice display specially while watching videos and browsing the internet.
Camera
 Its 8.7 Megapixel rear camera is better than the expectations. It comes with a Carl Zesis lens along with image stabilization. It has a smart camera function which enables you to take up to ten pictures in a shot and gives you the facility of choosing Best Shot. The Pictures qualities are perfect, blur-free and clear. Needless to say, it has autofocus and led flash (dual) which makes it even better. It uses the same PureView technology which is used in most of the nokia smartphones. Video has the stabilization facility. It has a secondary camera of 1.3 MP.
Operating System
 Lumia 925 comes with the Microsoft Windows 8 which is known for consuming less power than other operating systems. It is upgradeable to WP8 Amber.
Competitors of Nokia Lumia 925
 At the current price of above 30000 (33,499 to be exact), there is fierce competition from the HTC One, Samsung Galaxy S 3,  Samsung galaxy note 3 and iPhone 4S
Pros:-
Stunning Image Quality
Nokia Apps
Better Battery Life
Cons:
It has a 16 GB internal storage which is enough for a normal user. The memory is not expandable. There is no memory card slot.
---